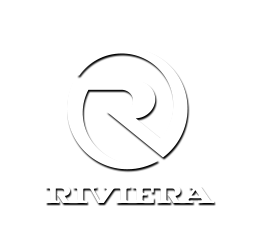 Riviera Australia
Time Honoured, Time Proven
Riviera is the largest and most awarded luxury boat building company in Australia. Today, the company builds luxury boats from 36 to 75 feet in length across four lines: Open and Enclosed Flybridge, Sport Yacht, and SUV collections.. From the first Riviera launched in 1980, and with over 5100 boats launched in 35 years, Riviera remains firmly focused on delivering exciting new models and fresh innovation in design, performance, interior fitout and overall quality. As dealers in Thailand since 1998, we know of no other brand that enjoys such a loyal following.
Riviera World Premier
In 2019 we have the pleasure of launching and announcing a number of brilliant new Riviera models to great acclaim. 2020 will be an equally inspiring year as we will shortly announce further premiere models.
Riviera – 39 Open Flybridge (New model 2018)
Riviera - 43 Open Flybridge
Riviera - 45 Open Flybridge
Riviera - 52 Enclosed Flybridge
Riviera – 77 Enclosed Flybridge
Riviera – 68 Sports Motor Yacht
Riviera – 72 Sports Motor Yacht
Riviera - 3600 Sport Yacht
Riviera – 4800 Sport Yacht
Riviera – 5400 Sport Yacht
Riviera - 6000 Sport Yacht
Riviera – 395 SUV (New model 2018)