This beautiful archipelago is located two hours away from every inhabited island, and actually consists of five separate islands (although a pinnacle joined to Koh Haa 5 has earned the rather confusing nickname of "Koh Haa 6" and represents a dive site of its own). Here you will find reefs, lagoons, swim troughs, huge caverns, and a wide variety of marine life, including the occasional pelagics, such as manta rays and whale sharks.
Koh Haa 1
Most popular for "the chimney", this vertical swim-through begins at a depth of around 4 meters on the western corner of the island and descends to a small cavern at approximately 9-10 meters, from where divers continue diagonally down to exit at approximately 17-18 meters. This is a favorite spot to visit both for divers and freedivers. If this seems scary a bit, then as an alternative, spherical cavern nicknamed "the fish bowl" after the school of bronze sweepers that are found residing there can be accessed behind the chimney at approximately 8 meters. The site itself consists of walls, plateaus and sloping reefs and is an excellent place to spot nudibranchs, shrimps, pipefish and the occasional frogfish along with much more wonderful marine life.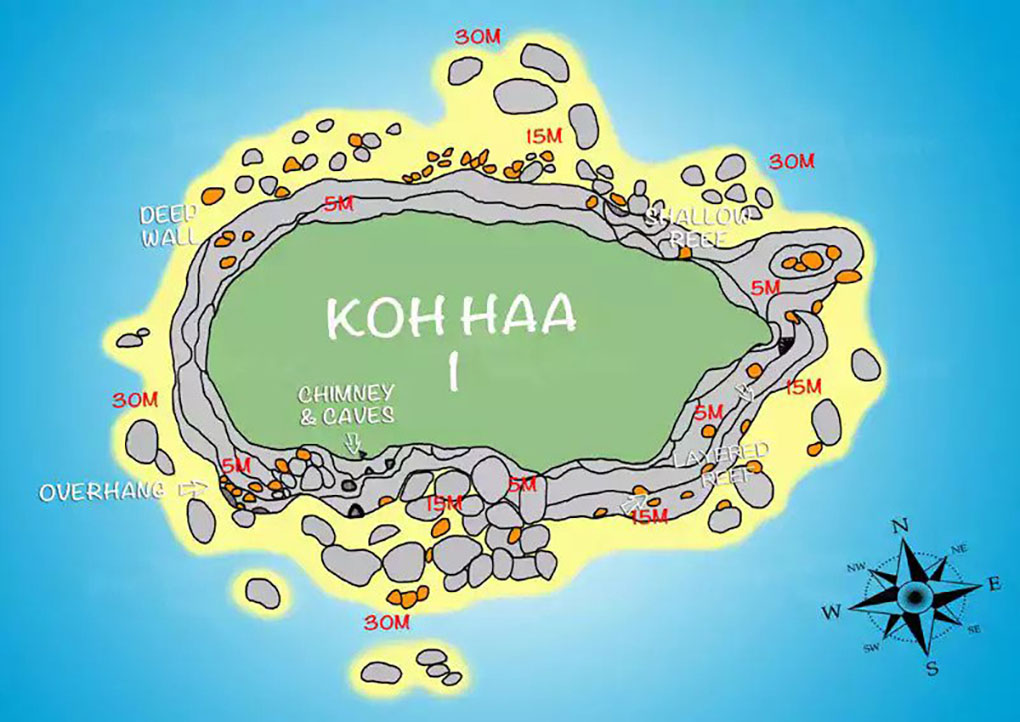 Koh Haa Lagoon (Islands 2, 3 and 4)
These islands come together to form a magnificent lagoon which has a lot to offer both for beginners and more experienced divers. Nice sandy areas provide an excellent place for students to practice skills easily and without fear of damaging marine life, while experienced divers will be certainly amazed by the plethora of that very same life, including frogfish, mantis shrimps, octopuses, harlequin shrimps, pipefish, sea moths and turtles, and occasionally even whale sharks! The outer side of the Island 4 is a steep wall dropping from the surface down to around 22 meters, from where a sloping reef then continues down to around 35 meters. There is a sloping sandbank between Island 4 and Island 2 that makes an opportunity for a short "muck" dive on the spot where many interesting marine creatures have made their homes in the sand. The wall rises again from the depths at around approximately 20 meters to make up Island 2, but unlike her sister, the majority of this dive site is made up of sloping reefs.
For those who have not yet made the plunge beneath the water with diving, snorkeling in the shallow lagoon within the borders of these three islands is a must-to. There are substantial areas of hard corals just meters below the surface and a small beach on Koh Haa 3 can also be accessed for those who may wish to rest during their snorkeling activity.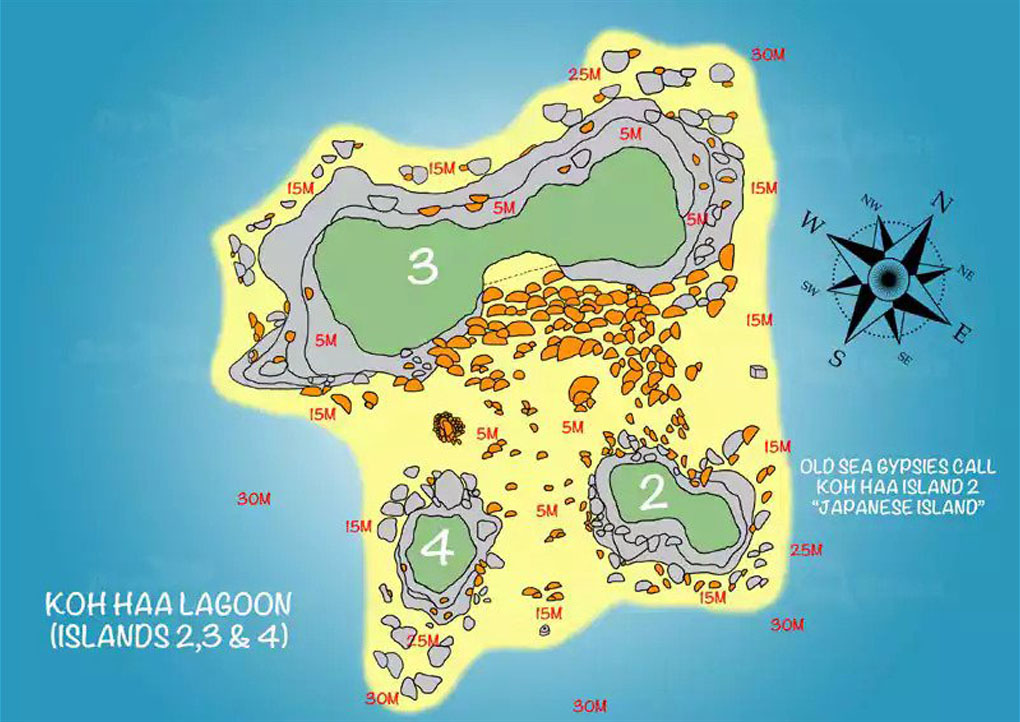 Koh Haa Yai (or 5)
Koh Haa Yai is the largest island in the archipelago and is most famous for the Cathedral, a series of three large caverns located to the south of the island. Two of these caverns begin at approximately 14 meters deep and rise up to the surface, while the last one continues to rise for approximately 10 meters more. In favorable conditions, divers can surface in this largest cavern that offers an amazing unique diving experience. It goes without saying that this is reserved for technically skilled cave divers only. The site itself consists of small walls and sloping reefs descending down to approximately 25 meters. On the other hand, sandy beach area is an excellent place for students undertaking diving courses and a great place for snorkelers seeking for shallow areas to enjoy in wonderful marine life of the island. The site is also notable for finding various forms of macro life, including nudibranchs, frogfish, and shrimps. Turtles and octopuses can also be regularly seen by keen diver's eye.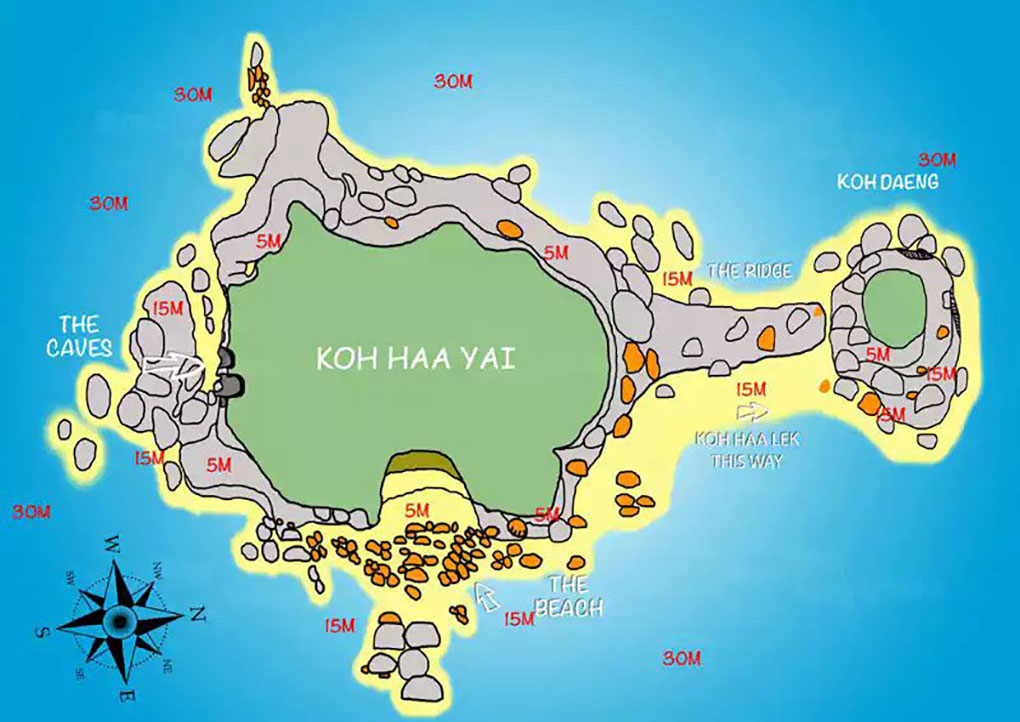 Koh Haa 6
The rather confusingly named Island 6 is actually a small pinnacle at the north end of Koh Haa Yai, connected to the island by a short sandy ridge approximately 13 meters deep. Not visited so often like the other islands of the archipelago (maybe due to lack of sand areas for students to use), this beautiful site should not be in no way dismissed! Offering unlimited wealth of soft and hard corals it attracts a wide variety of marine life, both small, within the pinnacle confines, and large in the surrounding blue. It occasionally even gets visited by leopard and whale sharks.

Source: Blue Planet Divers
Source: Dive and Relax