Located amidst surreal vistas of coconut palms, white sands, and turquoise waters, SEEN flaunts a totally unique beach club experience offering guests nothing but a good time filled with bliss and excitement – it stands out from the rest of Koh Samui clubs with its bright colours and retro-chic 50's design!
Taking in the nostalgic ambience and discovering the tiniest details throughout the beach club is an experience in itself! Apart from the retro-themed design, the club boasts best in class entertainment facilities with live music and DJs. The all-day restaurant has an extensive list of delectable dishes that will certainly tantalise your taste buds. The citrusy, tangy and sweet cocktails bring out the tropical essence of the island while top shelf spirits and cold craft beers let the good times roll.
The SEEN beach club experience is enticing, flamboyant and it certainly brings the best of a tropical beach club!
Spanning an area of 3,500 square metres, SEEN is a multi-layered, multi-sensory experience with two pools surrounded by plush daybeds, three unique bars and a retro-chic restaurant serving pan-eclectic American, Asian and Mediterranean cuisine.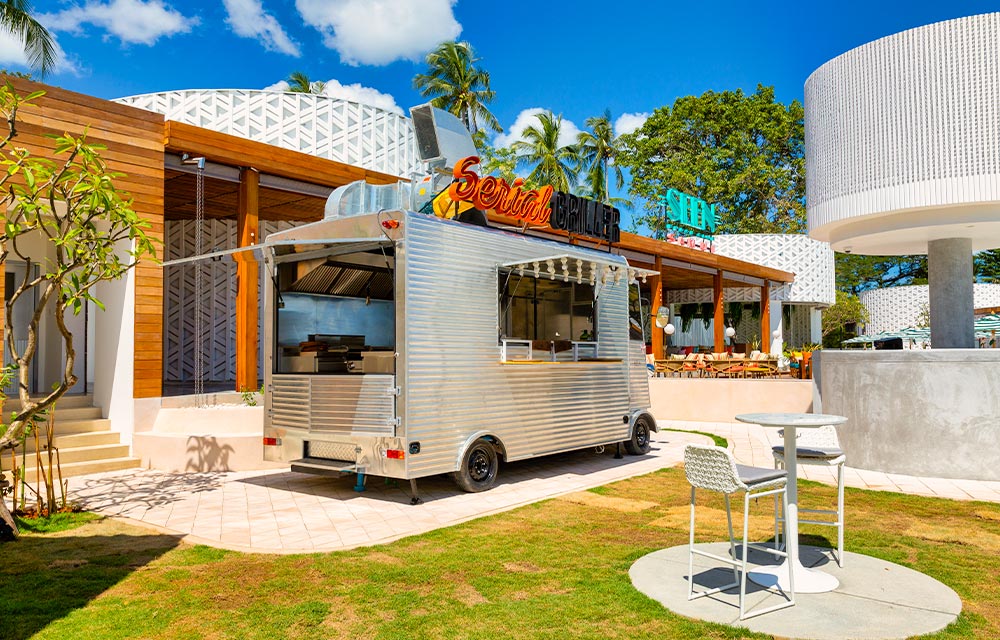 Concept
The good life began in the '50's they say… from multicoloured hues of neon lights, Rock and Roll, Elvis Presley, to the popularity of sideburns, soda fountains and nostalgic beach parties in Miami – the fifties was indeed an era of Bliss! It was a time when unconventional yet stylish movements started to go mainstream. With less influence of technology, life was a bed of roses filled with happiness and fun.
Inspired by the mid-century tropical design movement, we at SEEN Beach Club Samui let you travel back in time to experience the best of the fabulous '50s instilled with a sense of excitement. SEEN Beach Club Samui showcases minimalistic architecture, mirrored furniture and opulent fabrics coupled with bright colours and high contrast patterns. Spanning over an area of 3,500 square metres, SEEN is a fabulous revival of the beach clubs of yesteryear!
SEEN is nothing like any other beach club in Koh Samui! It boasts a lively ambiance where everyone is seen! The 50's revival design is reflected throughout, from the restaurant with its Mediterranean, Asian and American dishes, to its private cabanas and three of the best beach bars in Koh Samui.
Location