The Sanctuary Cove International Boat Show finally returned last month and, despite some pretty inclement weather, it did not disappoint. The proceedings began on Thursday evening with the Ocean Media Coterie to celebrate the 100th issue of Ocean Magazine, Australia's premier luxury boating publication. The Riviera 78 Motor Yacht graced the front cover of this prestigious issue. It was a lovely evening in great company and good to celebrate with Hillary and Michele and the Ocean Media team, who richly deserve their success and continue to tirelessly promote the yachting industry.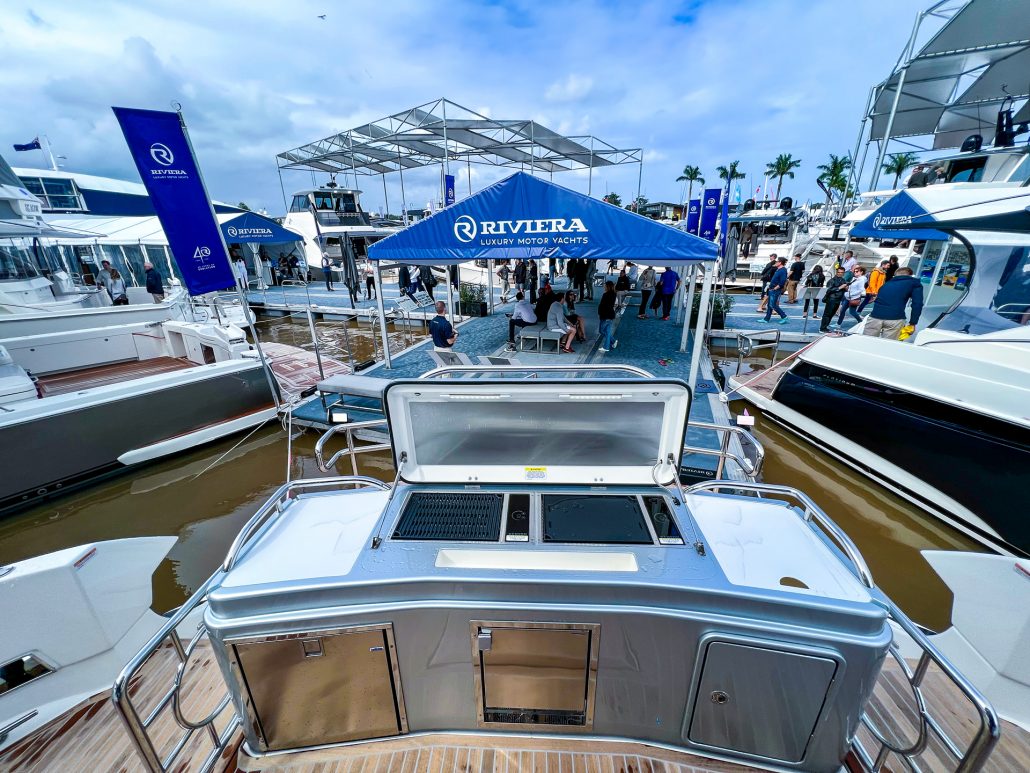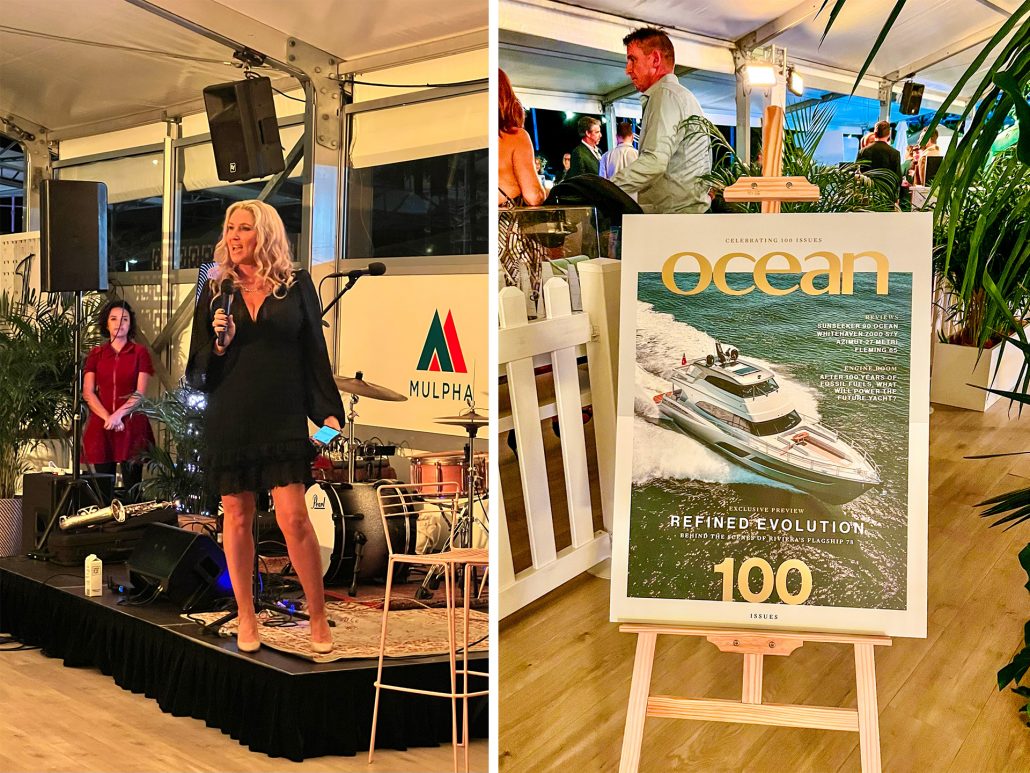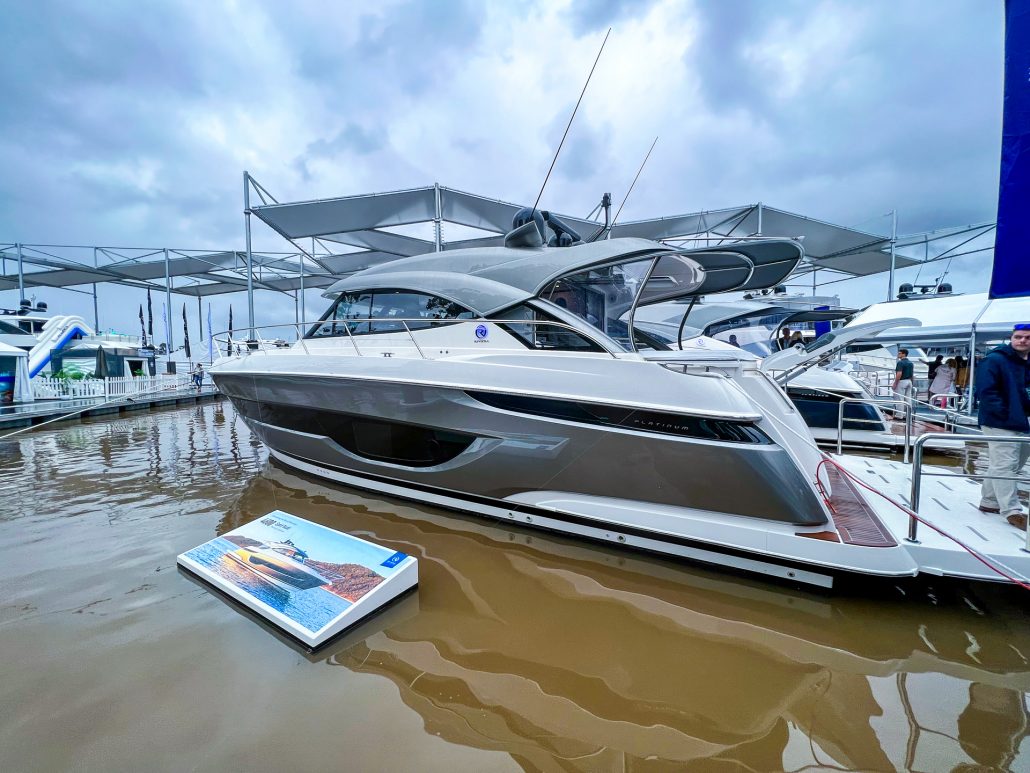 The Riviera display was by far the biggest of the show encompassing an entire private pontoon and was a welcome delight for any Riviera aficionado. With almost every boat in the range on display, and with no less than three world premieres, the Riviera 78 Motor Yacht, The Riviera 4600 Sport Yacht and the Riviera 465 SUV, the yachts were perfectly presented and gave visitors the chance to see the many styles, features, and options available. With factory staff on hand to answer any questions, and dealers attending from across Australia, New Zealand and ourselves from Asia – this was a welcome return to showcasing Riviera to the public.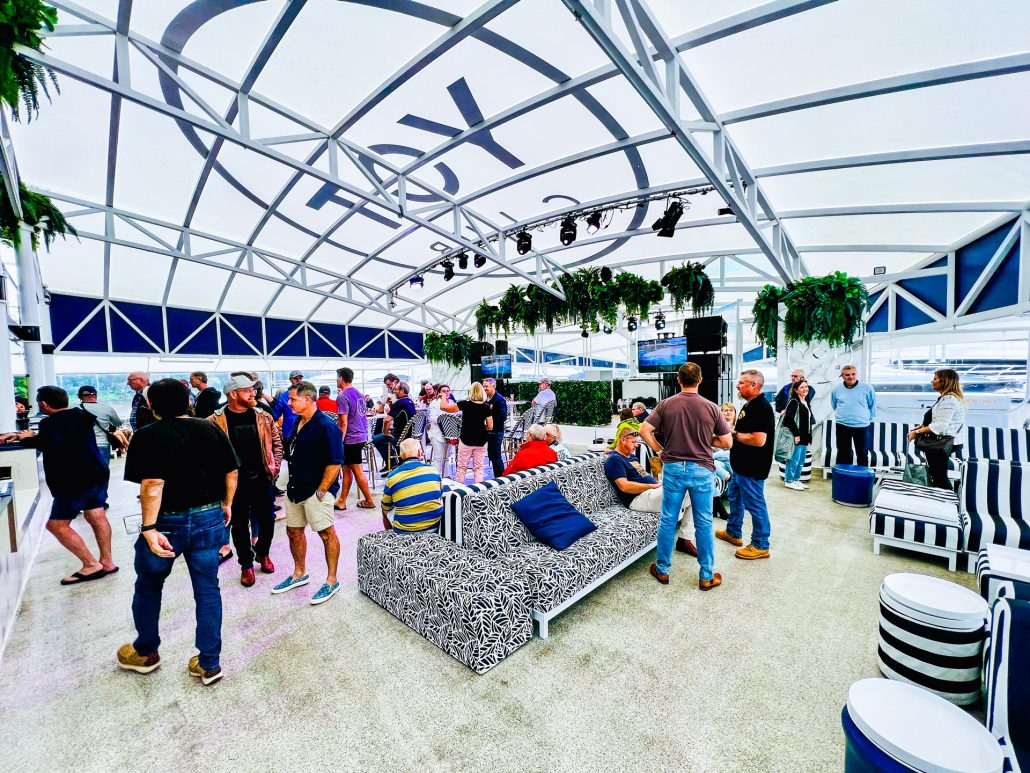 The addition of the floating Yacht 'Yot' Club to the Riviera display was a welcome and private retreat for owners to grab a coffee, or lunch, and enjoy some time to relax without having to venture far from the display. This floating club also served as the location for the many educational seminars and on-water workshops that Riviera provides. This includes the popular Ladies Skippers, Ask the Riviera Expert, Offshore Seamanship, Understanding Radar, and many more.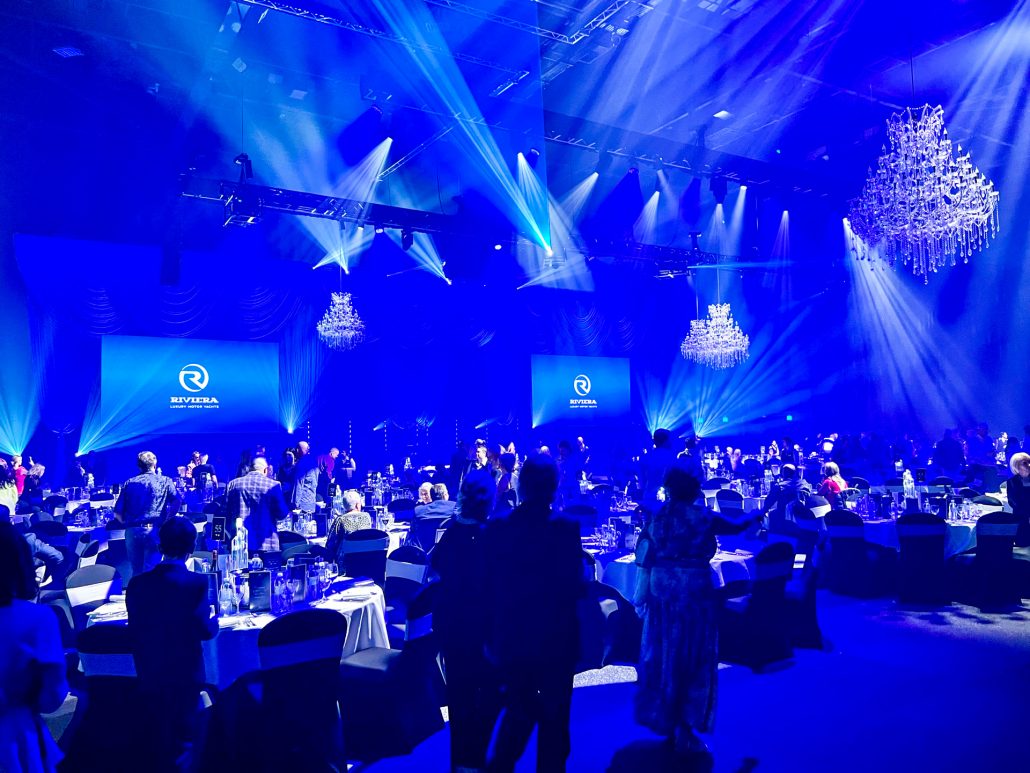 On Saturday evening, 500 plus Riviera owners, dealers and suppliers gathered together for the annual Gala Dinner, which this year bore the title "Celebrating the Evolution of Australia's Riviera". Under crystal chandeliers, we enjoyed a wonderful meal with musical accompaniment by none other than Glenn Shorrock of The Little River Band fame. An Australian icon helping to celebrate another Australian icon.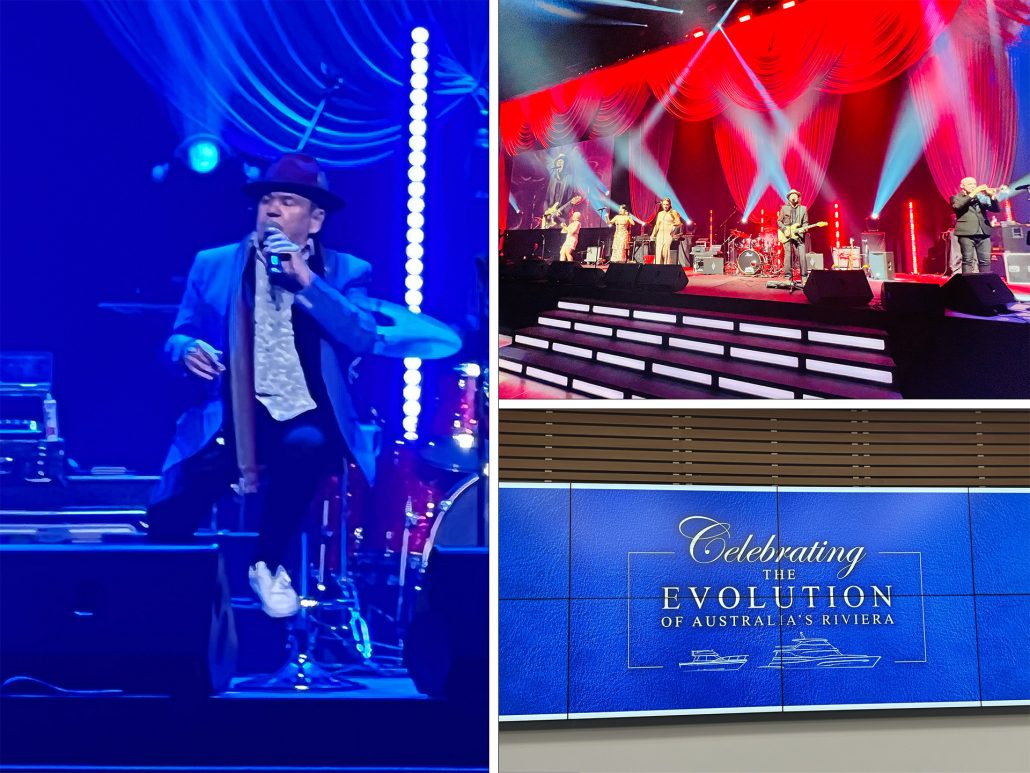 The musical entertainment was interspersed with a fascinating video curated by Riviera that gave an in-depth and personal history of Riviera from its humble beginnings in a small factory on the Northern Sydney beaches to the celebrated manufacturer that it is today, 42 years on and 12 years into its new ownership with Rodney Longhurst at the helm and Wes Moxey by his side. It was an honest and inspiring recollection of Riviera's history and a real measure of just how far the boats and brand have developed over time, and the moments and decisions that shaped that journey. Having been a Riviera dealer for over 20 years ourselves, it was a proud moment to relive some of that history too and to have been, and remain, a part of the Riviera journey.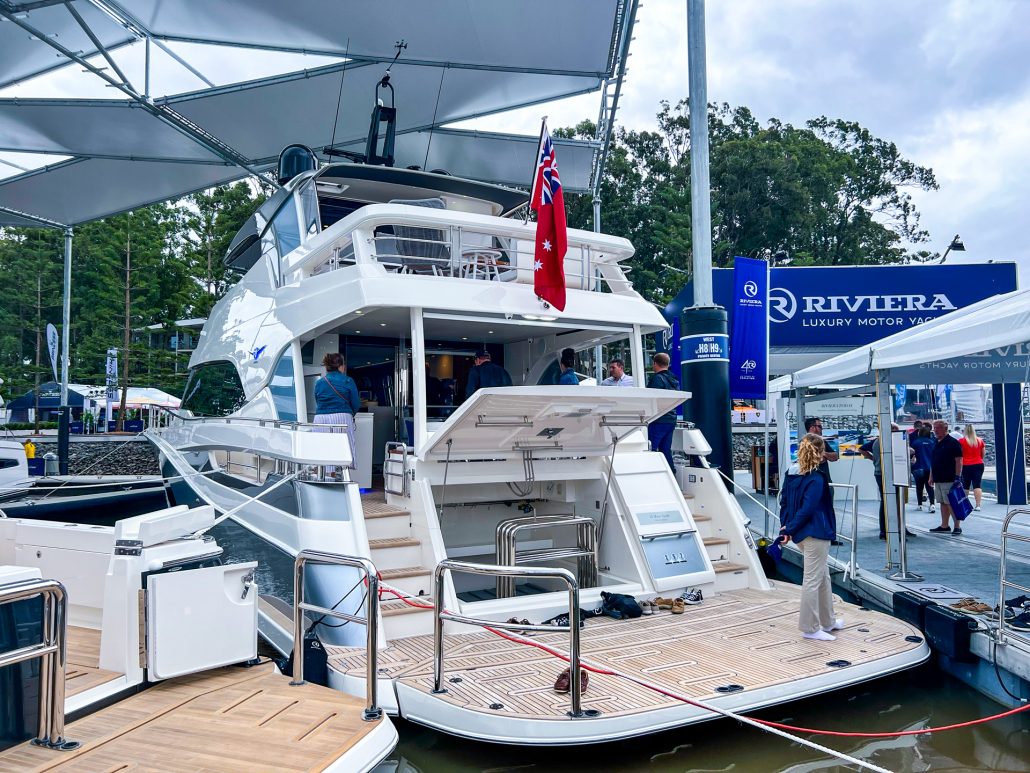 Sanctuary Cove Boat Show has always been one of my favorites to attend and so it was one that I was looking forward to. The rain didn't dampen anyone's spirits and it was great to catch up with many familiar faces after a couple of years of limited travel. Of course we spent time away from the show at the Riviera factory in Coomera where we checked up on the progress of Riviera 78 hull # 2 which is nearing completion and destined for Thailand. More on this exciting new launch coming soon.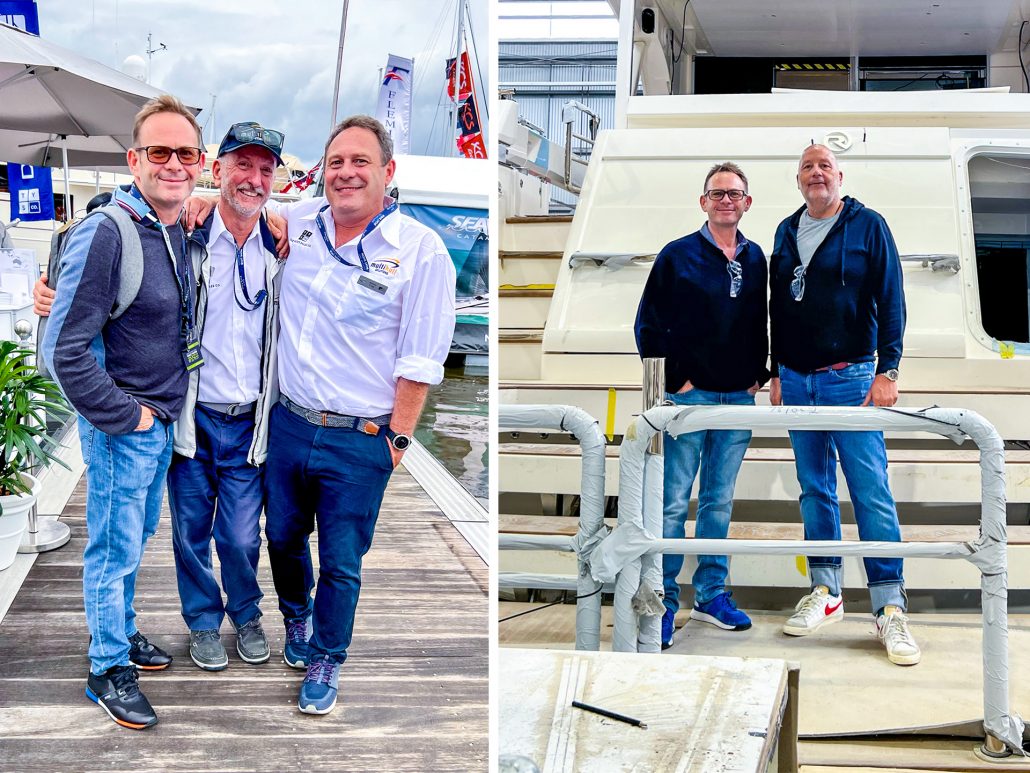 by Martin Holmes – General Manager