Riviera Australia owner Rodney Longhurst, CEO Wes Moxey and their senior team have developed an extraordinary capacity to envisage new concepts and to consult closely with experienced owners around the world with the objective to evolve and grow the range of yachts being offered. During visits to the Dubai International Boat Show over the past six years, they were introduced to Italian superyacht designer Luca Vallebona and began the steps towards creating a brilliant new concept Riviera yacht.
When Luca Vallebona was offered the opportunity to collaborate with the Riviera design team to create the flagship Riviera 78 Motor Yacht, he saw it as a unique brief.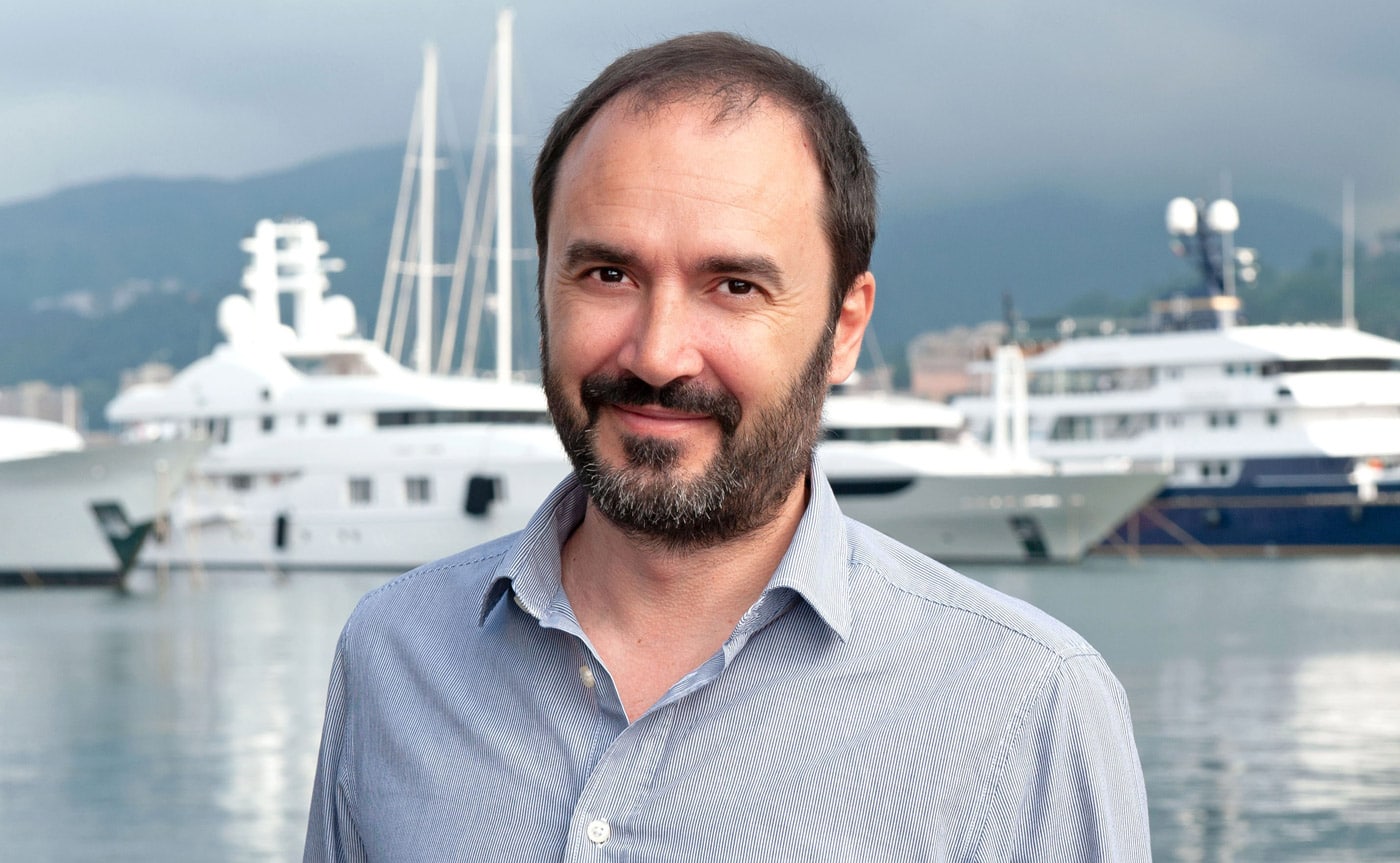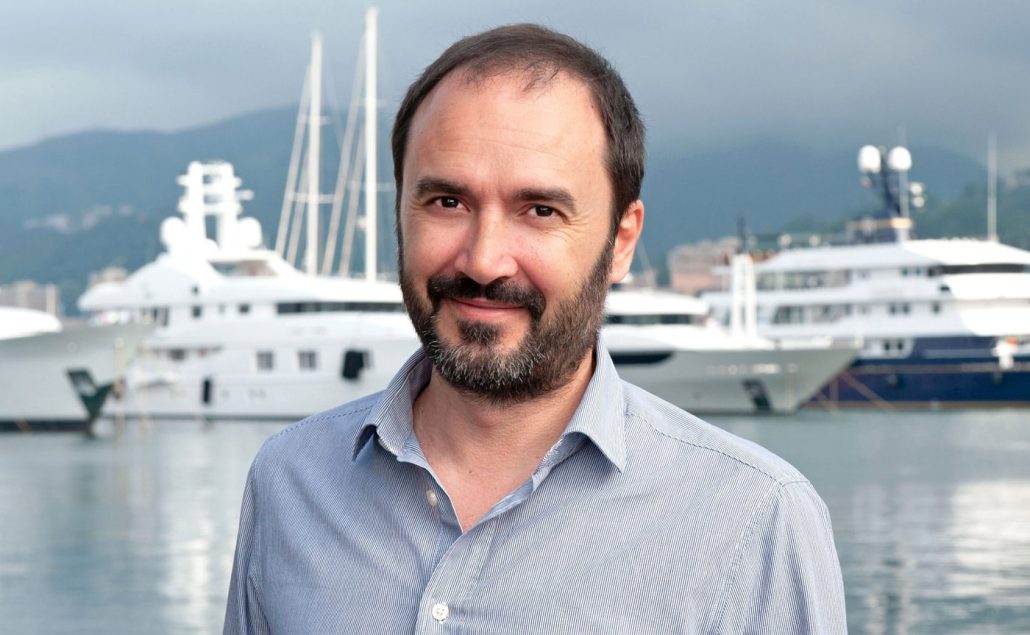 Luca is an award-winning superyacht designer having won the World Superyacht Awards in 2016, with a 42-metre yacht named Serenity and commissioned by Italian superyacht builder Mondomarine. His journey into superyacht design began when he studied architecture at Genoa University.
"I have always been fascinated by spaces – how they work and how we move through them," says Luca. "Architecture is all about the best possible utilisation of available spaces. During my studies I was drawn to buildings even though, at first, I wanted to design cars; but they are not particularly about space and I soon turned to motor yacht design. This way I merged my passion for spaces, architecture and design."
Luca began work on the Riviera 78 Motor Yacht more than three years ago.
"Previously, all my work had been mainly with custom yachts, so this brief was my first production yacht," he says, during a wide-ranging interview from his home in Cagliari on the beautiful island of Sardinia to the west of the Italian mainland.
"My experience has been to design from a blank sheet of paper. Until now I designed custom yachts – dimension starting at 30 metres. The largest was a design proposal for a 165-metre yacht. My brief with Riviera was to ensure the design of the 78 Motor Yacht maintains a strong sense of Riviera styling – she must look like a Riviera – as well as to create something new."
"At the beginning of our collaboration, I had many conversations with (Riviera owner) Rodney Longhurst and (CEO) Wes Moxey to help me understand the Riviera philosophy and what was required. I remember especially two conversations with Rodney in Europe. I could feel his passion and his involvement with Riviera. It was not related directly to designs or to spaces but was something more personal to himself and his commitment to Riviera. My conversations with Wes Moxey were more related to design. It was very important to create lines that could be seen as Riviera."
Working in collaboration with Riviera's in-house design studio, Luca says: "We decided to do something that was contemporary but not the showroom styling that you see especially in some European designs."
"We concentrated at first on the flybridge. We began with an open flybridge version that evolved into the enclosed flybridge. For Europeans, the enclosed flybridge is not so natural. However, it is important to the Australian and American markets, and we are seeing many more enclosed flybridges in Europe today."
"The major challenge in designing the exterior was to combine elements of current Riviera design with new concepts. I thoroughly enjoyed dealing with that because I had to push myself to find some new and unexpected solutions."
Luca notes the design of the stern and the aft deck as examples. While Luca wanted to maintain a close link with the Sports Motor Yacht, the deck of the new yacht was to be raised to the saloon level to create one vast indoor-outdoor living space.
"I wanted to hide the new deck floor, so I created a variable surface running above the join between hull and deck. We called this element 'wings'. They start from about 80 millimetres in height forward of the deck to arrive at the stern 270 millimetres high. This is visually a fundamental solution to obtain a strong aesthetic profile balance."
"When you find limits and problems, you will probably create something special by solving them through design. The main deck is always special in a Riviera and probably is one of the elements that gives Riviera a unique advantage. You see this in the alfresco decks of the Sports Motor Yachts and the SUVs."
In 2017, Riviera introduced the Sports Motor Yacht range that brought real innovation in luxurious motor yacht design offering wide walk-around side decks, a spacious four-sided enclosed flybridge and multiple entertaining spaces including the alfresco deck and foredeck relaxation zone. The Sports Motor Yacht collection redefined long-range boating with Riviera's introduction of the 72, 68 and 64 Sports Motor Yacht, and more recently the 50 Sports Motor Yacht. These yachts offer inspired offshore performance, full watersports capability with larger motor yacht features that puts them in a league of their own.
Riviera steered a new course in design with the world premiere this year of the magnificent 78 Motor Yacht to the fleet, the largest motor yacht ever created by the company. The flexibility of the new 78 MY design, available with an enclosed or open bridge plus four-stateroom accommodation, allows owners to personalise their yacht to reflect their individual tastes and further enhance their lifestyles.
"Going forward from the aft deck to the saloon interior of the 78 is an incredible space because you have a lot of experiences one after the other as you move through the space," says Luca. "We worked hard as a team to find the right balance in the interior design. I think we achieved a very good outcome. We introduced new concepts and they look superb."
"What I loved about this project is the way we were mixing our different cultures – the Australian and the Italian. European culture has a lot of history behind it. This can be read in the stones of the buildings; you can read it in the centuries, and this influences my way of design. What I love from the Australian perspective is you are more practical, in some ways more able to think freely. While we have a lot of structures that come from the old times, you are more relaxed and more open to change. We have found a good balance which will make everyone happy."
Luca says the 78 Motor Yacht design has achieved a very personal appeal.
"The entire yacht has been built to be family friendly. I wanted to communicate an idea of calm and relaxation with this design. This is what you expect to find with family and friends – more similar to our home" he says.
Asked to comment on what he most likes about the 78 Motor Yacht, Luca says: "The exterior profile is the most impressive thing to me, and all the process behind the result. I really like the yacht because I can see all the people, minds and skills involved. There isn't a scientific and exact way to create a new yacht, so I also love to see how many emotions stay behind everything we created … whilst also allowing the ones of the future owners to be involved."
"I am absolutely impressed by Riviera. I came to the yard twice. I love the clean spaces, all the buildings, the area where the customer can choose fabrics or whatever personalisation they want – and there's also the joystick simulator!"
"What I saw is that Riviera has a true interest in its customers. This is reflected in exclusive events, owners' experiences and boating adventures."